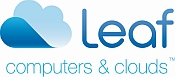 Leaf believe that business success is linked inextricably to technology success and know that effective technology can help meet your objectives, ultimately resulting in the sustained growth and success of their organisation.
Leaf computers & clouds are proud to be an award winning Microsoft partner, and have been awarded an array of industry awards including 'Microsoft Cloud Partner of the Year 2012' and 'Microsoft Ireland SMB Partner of the Year 2013 and 2014' and have been a 'Deloitte Technology Fast 50 Winner' from 2010 to 2016. Leaf have also become one of the first Microsoft partners in Ireland to achieve CSP (Cloud Solutions Provider) status. This gives them the ability to bundle Microsoft cloud services along with other IT services giving customers a seamless and direct billing, management and support experience. They are one of the few Dell 'Premier Partners' across the island of Ireland which not only further enhances Leaf's level of service offering but enables them to offer their clients industry-leading solutions in association with Dell.
Everything Leaf provide is tailored expertly to meet the requirements of each individual client to ensure the technology and services are aligned precisely with core business needs.