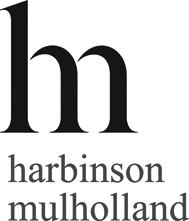 Harbinson Mulholland (HM) is an independent firm of chartered accountants based in Northern Ireland. We work hard for our clients and with our clients; combining our expertise and talents with your ambition to achieve results. HM was formed in 1998 and has a commitment to growth and excellence.  Our team is 50 strong, led by 7 partners.
Our clients benefit from a firm with auditors and accountants with considerable experience working with a wide range of locally owned businesses including a number of legal firms.
Services we offer includes Audit, Accounts and Tax work along with industry leading expertise in, Forensic Accounting, Corporate Recovery, Due Diligence and Payroll.
But what we do is only half the story, the key to our loyal customer base and continued growth is how we do it.
We deliver our services in a professional but extremely personal way.
We're small enough to be able to offer a personal service and big enough to tap into a multi-disciplinary range of skills when you need them.
We guarantee you access to our most senior people and absolute certainty of expert advice.
We are independent members of BKR International, a leading global association of independent accounting & business advisory firms.
Find out more
www.harbinson-mulholland.com