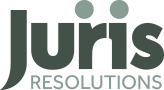 Juris resolve disputes efficiently and effectively from first contact to final resolution. They provide a panel of fully qualified and skilled mediators and arbitrators who will manage and resolve your dispute in a private and professional manner at a convenient location. Their personal and online services make the entire process simple, efficient and client friendly.
Their mediation and arbitration services offer parties the opportunity to resolve disputes relating to employment, contract, commercial, professional liability, insurance, family and matrimonial matters.
Visit the Juris Resolutions website.